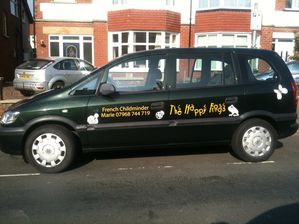 Dear Neighbour, If you are over 21 and have a clean driving licence you can drive my car. Insurance included only £25 per day.
My Vauxhall Zafira (7 seaters) is perfect for carrying passengers or big loads and iswell taken care of. Baby seat, children booster seats and Sat Nav can be provided.
To book my car go to www.whipcar.com/HappyFrog/ and enter Voucher Code: YG5T6V3 for a 5% discount.
If you already own a car: you can enter referral code HAPPYFROG when registering your car with WhipCar, they will give us both £5 after you receive your first booking.
All the bookings need to be done via WhipCar.com but if you don't have the internet or you wish to ask any questions you can contact me on 07968 744 719 for help.
Happy Driving