Will I become a PLAYHOUSE CREATURE?
I have joined today the amateur theatre company Harrogate Dramatic Society. They will perform April de Angelis's historical drama PLAYHOUSE CREATURES.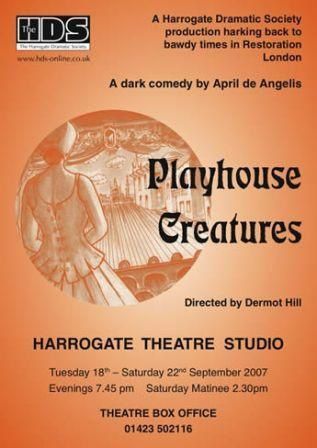 Comic drama set in Restoration London and featuring five famous actresses of the day, including Nell Gwyn, the original "orange moll", mistress of Charles II. But life in those bawdy times for women on the stage was a constant struggle against poverty, prison and pestilence.

Performed in Harrogate Theatre Studio Theatre

For more information on Harrogate Dramatic Society, to join or comment on this production please contact Gordon Methuen on 01423 538 326

SHOW TIMES
18 Sep 2007 : 7.45pm
19 Sep 2007 : 7.45pm
20 Sep 2007 : 7.45pm
21 Sep 2007 : 7.45pm
22 Sep 2007 : 2.30pm & 7.45pm
All tickets £8.50
I will go see the show with Angela, Pam, Kirsty, Marion and other friends on Thursday 20th September, let me know if you want me to book a seat for you with us or if you are comming too.