St John Fisher Sportscamps
I have booked my son Louis with James and Charles
to St John Fisher

Sportscamps

Monday 26

th

October.
The camps include over 30 different sports and games, led by enthusiastic and committed sports leaders.

All the camps run from 8.30 am to 4 pm every
school holiday
with excellent indoor and outdoor facilities.
If you would like your child (or your children) to learn some French before or/and after a day of sport I can be your childminder.

You drop your child at time convenient for you at my house before 8am /
or at 8:30 at
St John Fisher

Sportscamps
and the fun carries on at my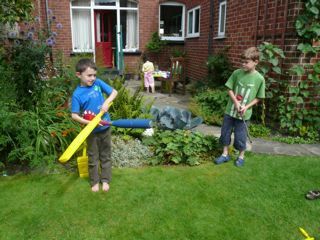 house until you arrive.

I will make it very easy for you and I help you in the booking process.

If you book before Monday 19

th

October, contact me and you will receive £5 discount for
St John Fisher

Sportscamps
You can see here a photo of Louis demonstrating his Cricket talents to fellow cricket player (W. wears the
T-shirt
). In the background 2 younger children are painting and cutting relentlessly. On that day a lot of arts was produced including cardboard
light-sabers
for each boy.