Week of 13th May – International Biodiversity Week
Happy Frogs hosts an exciting and interactive rainforest workshop with Auntie Kate and Maman Marie. Hear about
the amazing creatures in the world's rainforests, take part in the 'rainforest
challenge', create rainforest poems and artwork. Suitable for all school-aged
children. No extra cost. We have done it on Wednesday at Christ Church play group.
Week starting 20th May - The Happy Frogs are going Veggie for National Vegetarian week.

In the daytime: Vegetarian Cooking (in French) : The Toddlers will experience cooking and eating vegetarian food, whilst learning French at the same time! With Maman Marie (For Happy Frogs only)
After school: Children will discover the benefits of a meat-free lifestyle and tast few dishes. Lead by Auntie Katie and Maman Marie. (For Happy Frogs after school only)

Thursday 6th June – World Ocean's Day (the plastic bag turtle):
Happy Frogs hosts a special 2 hour workshop suitable for nursery and primary school
aged children. A story session on the beautiful sea turtle followed by a collage-
making session of a giant turtle out of plastic bags. (Normal childminding fee apply)

Friday 7th June: The Do the Math Movie! Screenings and House Parties
We will show "Do the Math" film and debate afterwards what we can do to change things. Home made and organic snack will be served just before the show at 3:45.

Week beginning 15th June: Happy Frogs are taking part in Bike week.
Like every year before we are going to school by bike or scooter + a cycle ride on the Bilton triangle is planed. (nothing new)


Thursday 11th July – Native Wildlife Day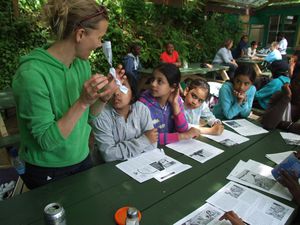 Happy Frogs hosts an exciting and interactive 2 hours workshop on the kind of native
wildlife to look out for during the summer holidays and how to make your garden
a wildlife friendly zone! Suitable for children of all age groups (Normal childminding fee apply).

All workshops can be bi-lingual in accordance with individual preferences.