Recommendation from Zara's mother
Going back to work when my daughter was only 6 months old was a very stressful time for me, especially as I didn't have any family members I could leave her with. Choosing a complete stranger with whom I felt confident was daunting. Fortunately I found Marie Parker.
Marie's style of child minding was very similar to my own style of parenting. She makes sure the children in her care are stimulated both physically and mentally, No two days are ev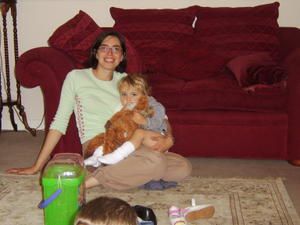 er the same. My daughter was rarely stuck in the house as Marie made a point of getting out somewhere every day. The children always had healthy meals and were given frequent opportunities to develop their creative skills. Because Marie is French speaking, it was a fabulous opportunity for my daughter to be exposed to a second language and I encouraged Marie to speak to her in French as much as possible. The result is that my daughter has been given a great foundation for language which she has subsequently developed at home and nursery school.
I would highly recommend Marie Parker to anyone looking for a safe, stimulating and engaging environment for their children.
Sincerely,
Iona Hine